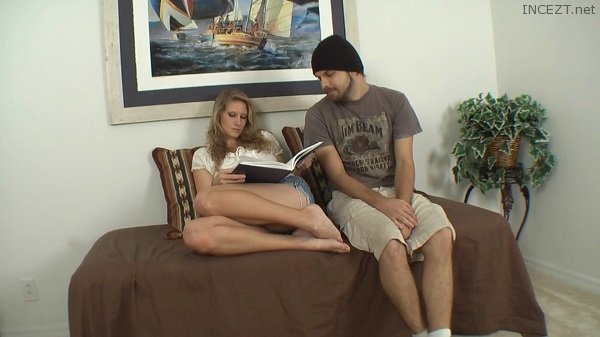 ANGELA'S BROTHER HAS BLUE BALLS…AND HE SHAMEFULLY ASKS HIS BIOLOGICAL SISTER FOR A "SEXUAL FAVOUR"!!! ANGELA TAKES ADVANTAGE OF HER OLDER BROTHER…AND MAKES HIM SERVICE HER FIRST!!!!
Angela is busy reading a book….minding her own business….when her Brother Devon enters the Family Room and sits down beside her. Devon is depressed….because things have not gone well with him, and the "ladies" lol. Devon is so desperate…..he makes a shocking & inappropriate confession to his Sister!!! Devon confesses to his Sister that he has "blue balls"…..and while hanging his head in embarrassment…..he sheepishly asks his Sister Angela if she can "help him out". Angela is initially stunned by this totally inappropriate request….but then she closes her book….and takes a long look at her Brother….slightly amused by his predicament. "So basically….you want me to get you Off??" Angela says to her Brother. He nods. Angela senses an opportunity to take advantage of her older Brother….so she makes him a deal. "I'll get you Off…..if you get me Off first…..". Angela's Brother is caught by surprise….he didn't expect his shameful request to be met with a challenge!!! Devon gets down on his hands and knees, and begins to service his Sister's Pussy. He licks and sucks her Pussy…..fingers it….and keeps asking his little Sister "Is that enough?….can you do me know???…." Angela moans as she keeps instructing her Brother to keep going. When Angela has an orgasm from her Brother's hand stimulating her clit….she tells him that finally it is his turn! Angela Sucks her Brother's cock…..and he asks his Sister if he can see her Tits. Angela takes her shirt off….and Devon is shocked by what he sees….his little Sister has the most Beautiful Tits in the world!!! Angela puts her Brother's cock between her Stunning Tits….and masturbates her Brother to completion….right between her Tits!!


Please Login or Register to read the rest of this content.