Part 1 – Hannah couldn't stand her dad. He was always trying to win her over with stupid gifts, so when he gave her a meditation lamp for her eighteenth birthday she just rolled her eyes. image He told her to think about what she wanted most in the world while she stared into the light. "I wish my dad would fall in love with another woman and leave my mom". A strange sound hummed from the lamp and she could almost hear a voice…it sounded like her own. "You are in love with your father" it called. "No I hate him," Hannah said resistantly. image "You get wet just thinking about him…." "Why am I so wet?" Hannah asks not even realizing that her hand and slipped into her tight little shorts. She moans out as the sounds and voice take hold of her mind. She can't look away. She can't stop touching herself. Later that night after mom went to bed she sneaks downstairs to find her daddy napping on the sofa. She gentle lays her little eighteen year old body on him, rousing him away. "Its ok daddy, mommy's in bed" she reassures him before she starts kissing him. She begged and begged for him to cum, for him to let her know she was a good girl. To show her how much he loved her. To make her wish come true and to steal him from her mom.
Part 2 – Ever since her father gave her the magic lamp Hannah's been obsessed with pleasing him, but daddy's been reluctant to let her continue pleasuring him telling her that it was wrong. She cried all night and begged the lamp to help her. It told her to show the light to her friend Nia so she would fall in love with her dad as well. Once the programming is complete Daddy walks in to find the girls posed on the bed waiting for him. "Hi Daddy" Nia says seductively. "We just want to please you" Hannah adds as he watches their hands tease the hem of their tiny little cheer uniforms. "We won't tell anyone" Nia promises, her big beautiful brown eye looking up at him. He can't resist. He's dreamed about this, Nia laying on her back a he thrust his cock between her big natural eighteen year old tits. "Thank you daddy" she moans up at him as Hannah kisses his neck. Nia spits and drools making sure to keep daddy's cock nice, "I love you daddy" she says with totally devotion in her eyes. He can't believe this is happening. Two eighteen year olds begging to pleasure him, thanking him for using them. He feels like its a dream. The girls both flip over onto their hands and knees for daddy. His new "little girl" is first and he pushes himself into Nia's tight young pussy. "We love you daddy," Hannah whispers as she kisses him before he pushes her back down. His daughter is just as tight as her friend and she begs for more as he uses her. "Thank you daddy" she moans as Nia spoons up beside him. Hannah is nearly in tears she's so happy to finally have daddy inside her. He finally realizes how much she loves him, how happy she can make him. After the girls take turn riding daddy's cock they wrap themselves around his legs and beg for his cum. "We won't tell anyone" "It'll be our little secret daddy" "We'll be such good girls for you daddy".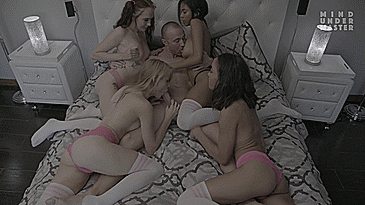 Part 3 – Hannah won't stop at just using the lamp to make Nia fall in love, she'll keep going until her father is completely satisfied at all times. She uses the power of the lamp to make two more girls from her cheer team far in love with her daddy. All four of them send daddy a video begging him to use them, to let them pleasure him all the time…all at once. "It'll be our secret. Don't you like secrets daddy?" Hannah asks in her video. With her mother gone for the weekend Hannah invites them over to surpass daddy when he gets home from work. He walks into them, allowing them to surround him with their young bodies. He knows its wrong, but how can he resist? Four eighteen year old girls devoted to one thing, bringing him pleasure. They kiss him all over, telling him how much they love him, how much he deserves to have four young girls pleasuring him. They strip off him clothes, Hanna and Nia drop to their knees and start sucking his cock while Aria and Alice kiss him, "We just want to make you feel good daddy. We love you so much."They switch and Nia and Hanna caresses daddy's chest as his new fucktoys suck his cock together. "I told you I'd make you happy daddy" Hannah whispers. Soon they're all on their knees worshipping his cock and stripping out of their cheer uniforms. Mia wraps he big tits around daddy's cock and says "I missed having your cock between my tits daddy." The girls go back and forth from sucking his cock to kissing him all over to feeding him their tits all while begging to be his fucktoys. "Mom's gone all weekend daddy. We can do this everyday" Hannah tells him, "Would you like that daddy?
Includes: Blowjob(2 – 4 Girls) Doggystyle Cowgirl Cunnilingus Incest Roleplay Kissing Cumshot
Daughter, Teen, Small Tits, Big Ass, Big Tits, POV, Cheating, Male Domination, Passed Out, Group, Threesome, Lesbian, Bisexual, Ebony, Latina, Interracial, Asian, Uncensored Asian, Stockings, Titty Fuck, Blowjob, Handjob, Deepthroat, Cum in Mouth, Facial, Swallow, Cunnilingus