Act 1 It was one of those days when Mommy was at home to clean up the house. At the end she left room of her son. He always cleaning his room alone, but this time Mommy had some more free time and wanted to help because she enjoying her housework time and it's not a problem. While changing the bedding – between mattress she noticed some kind of book. She's wondering what's that and opened… that was her son's hidden diary… Mommy don't want to violate son's privacy but her eye very fast noticed word "tits" so she continued reading to see full sentence what's going on there "…Today I saw her tits again…" "…They are so beautiful and I really want to touch them…" Is my son have any girlfriend from school? – [Mommy thinks] Then continue reading and skiped some pages to latest writings "…Today I was able to see her through the grille in the bathroom…" "…Was amazing. I saw when she pulls down her bra and panties. Her breasts are great. I couldn't stand anymore longer and I started masturbate on the floor in front of the door. I ran away as she started to dress satin nightie…" Mommy: Oh my… I was think I'm reading some son's fantasy, but this is everything about me… Is my son spying on me? (continue reading) "…New Year's Eve soon and I dream again to sleep with her as it was after the last New Year's Eve party. It was amazing how she came after twelve o'clock to bed. She was Tipsy and went into my bed by mistake. She fell asleep right away. She was lying next to me in a nightgown and her breasts strained shirt. I was very scared, but I wanted to touch them. I had an erection as ever. In the end I decided that she's so Tipsy so not feel anything and put my hand under her shirt. Her breasts are so soft. With one hand I took her breast and the other began masturbate. After a while I had an orgasm, and I had to go to the bathroom to wash up. Fortunately, she did not wake up…" Mommy: [stops reading] I finished reading with a strange feeling. At first I was surprised and bit scared. Now with every sentence I felt excitement and getting wet. My son touched me as I slept… Act 2 (Later same day) Mommy: When the son returned from school, everything went as usual. I tried to behave normally while constantly thinking about it. At the evening I went to take shower, I tried to behave normal. In my underwear I stood a little closer to the door and looked down. So now clearly I saw the outline of his head and the hair from the grille. He was staring on my ass and don't know that I noticed him. The idea that the son looking at my ass suddenly excited me. "Okay", I told myself. I guess I really like it. He did it so many times so I let him watch again. I turned slightly back to the door and pulled my panties. Think about the fact that my son sees now my vagina and ass was great. Now I took off my bra and went into the shower. When I came out of the bathroom after bathing son was in his room. Normally I would have thought he was asleep. Although probably asleep now after the "effort". I was thinking what to do. My son is really horny. It excites me. I want to help him. I know my son wants it but how to get started. Talk to him?. I don't want to admit reading his diary. It could disconcert him. Should I Invite him to bed at night? Go to sleep and to wait as it starts to touch me?. It's certainly one possibility. Maybe invite him for a bath together or can pretend Tipsy hmm… Okay I got solution, it's best one… I tell him that I had trouble with sleeping recently and insomnia that I have for some time take a very strong sleeping pills to cure me. I'll ask him to sleep with me and in the morning to wake me up as my wake-up call, because I can oversleep even with alarm clock and get late for job, because the pills are strong. It will make him more confident with moves. Act 3 (Next day) Mommy get a prescription from good friend doctor for sleeping pills. Later that evening when they watched TV together mommy said : "I have a favor to ask you, son. For the next few days, maybe bit longer – I have to take strong sleeping pills, because last times I got problem with insomnia and have to adjust sleep and get more rest.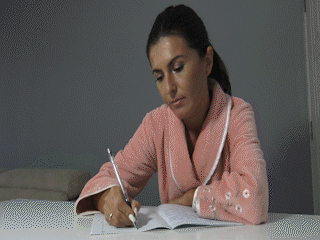 I'm worried that after these pills I can oversleep for work. I'm beginning to take them till today's night. Is fine? Will you come to by bed?" Son – "Of course, Mom. I will help you" In the evening, I took shower quickly, but this time son didn't spy on me. He had hoped for more later? I wore a nightgown, grabbed a glass of water and I went to the bed, faked that took the pills and turned off the light. We lay down under the blanket. I was on my back, son lay next to the side of his face in my direction. After a while I pretended that I fall asleep. Son lay motionless. It was a moment, and suddenly I felt like slightly moving the blanket. I think he did it only to the test, because after a while it was quiet again. Then I felt like he uncover me completly , son rises and kneels beside me. After a while his hand moving on my chest, then moved to the breast playing with nipples. I relaxed completely… starting getting wet… Son gently began to slide down the satin nightie from my shoulders to uncover my breasts. I was so excited, had a problem to breathe calmly. He leaned over me and gently took my nipple between his lips and began to suck me. He took his pants down. Now I felt like pulling up my shirt from the bottom. After a while, my pussy was on top, slided his hand between my legs and begins to move fingers near pussy lips. With his left hand masturbating and after a while I heard a very quiet moan , made a few sudden movements and yes he had orgasm, ejaculated a lot. He took handkerchief – wipes himself and probably a blanket. Then my son tried to bring my shirt to a previous state and lay down next to me. I wasn't satisfied enough… Morning alarm clock rang, Son stood up and started to wake me, I woke up, but I played a little sleepy. The day passed normally. Act 4 The next nights scenario continue to grow. Son been bit more confident. I was on my back, son climbed on me, sucking and touching my breasts. I would prefer him to continue caressed my pussy, but I don't how to steer him. My role is only to fake that I'm in deep sleep… Son was his on knees still sucked my nipples and I felt his penis on my stomach. It's so hard… pressed it against my stomach and starts to move. I really would like to feel it bit more down… in my vagina… After a moment I felt his sticky sperm on my stomach. Then, as usual, he cleaned everything, dressed me and went to sleep next to me. [When son is out of home – mommy still reading son's diary, he describing every night there] Act 5 (Last dose) Mommy really wants to break this taboo and force son to be more confident in movements. She told to son that the pills are working great, she's almost cured and this is the last night when she gonna use them – it's last dose… This time Mommy decided to pretend to fall asleep on the side. In this position Son trying to reveal her breasts. He went from other side bed with penis in hand, he's masturbating and watching his mommy beautiful face, he get closer and put penis on mommys lips, moving slowly around. He really wants to stick it somewhere today…, it's probably last chance to use mommy, no more pills – no more deep sleep… He got back into bed, behind her ass. It was very exciting. His fingers came to the entrance to the pussy and began to tease the clitoris. Mom is more and more horny… He can't stand this anymore so put his penis closer to pussy lips and moving around then slowly step by sliding into mommys vagina. [in this moment Mommys bites her lips of pleasure and is so happy that he did it, finally inside her… she waited so many nights for that] Son continued fuck her very slowly and enjoys that new feelings "how to be inside pussy". Now he turned mommy on the back, because wanted to watch her face and kissing her neck while beeing inside her pussy. (Mommy is fighting to hide her feelings on the face – have orgasm) This not lasts so long, he exploded huge cumshot on mommys stomach. As usual very fast cleaned everything. Son covered himself and mom by blanket and cuddled her saying quietly "Good Night Mommy…" [SCENE ENDS]
Category: MILF
Related Categories: LIMP FETISH, FUCKING, OLDER WOMAN / YOUNGER MAN, CUMSHOTS, TABOO
Keywords: diary, milf, fucking, sleeping mom, mom/son, taboo, sleeping with mom, family relationship, nipple sucking
Please Login or Register to read the rest of this content.