A guy is in his living room jerking off when his hot MILF of a mom comes in and asks what he is doing. He tells her that he has a tryout for a porn film, but that he is worried that he thinks he won't last long enough. She tries to encourage him and he asks her a taboo question.
He wants to know if she would let him fuck her, just for practice. She says no at first since she is his mother, but he has her feeling guilty saying that she must not care about his career. She then reluctantly agrees, as long as he agrees that it is only for practice and that he does not enjoy the taboo action. He agrees and she bends over the couch for him.
She does not take any clothes off, but instead pulls her leotard type bottoms to the side to reveal that her pantyhose already have a hole in them. He enters his mom in doggystyle and starts to pump away on her pussy slow at first then fast. He then pulls out in frustration saying it feels to good.
She still encourages him and she then lays on her back on the couch and has him fuck her in missionary. Again he pumps slow and then fast, but pulls out saying she feels too good. He then storms off saying to forget it.
A bit later mom is in the kitchen and he comes in to try again. She bends over the counter and he again fucks her in doggystyle. The same result happens and he leaves in anger again. A bit later mom is in her room and must hear him come in as she is already holding her bottoms to the side, ready to let her son get more porn fucking practice.
He fucks her in missionary and the view is from over her head. He starts to moan in pleasure and she questions if he is liking it or not. He tells her to shut up and at this point mom realizes that her son has tricked her into having sex. The view changes to behind him and his ass can be seen moving up and down as he pumps away on his mom's tight pussy.
The view changes to the side and he puts his mom on her side to fuck her some more. At this point she is upset that he fooled her. He tells her tough and then gets her up on all fours for more doggystyle action. He pushes her face first on the bed and she is not happy with him. He continues to fuck her and then he starts to moan really loudly as he is pumping his cum deep inside his mom's cunt. She tells him not to cum inside her, but she gets an unwanted creampie nonetheless. He leaves almost laughing and she straightens herself up yelling at him that she will not forgive him for his trickery.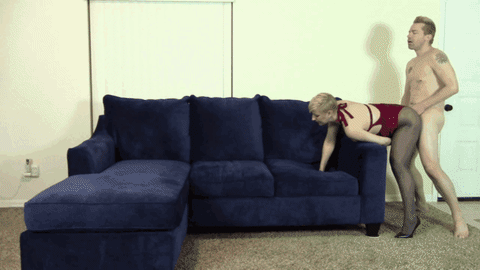 Included in this clip: Taboo, MILF, Mom and Son Fantasy, Doggystyle, Fucking, Taboo Fucking, Pantyhose, Son Fucks Mom, Unwanted Creampie, Creampie, Trick, Son Tricks Mom, Mom Gets Creampie, Blonde MILF, Blondes
Category: TABOO
Related Categories: MILF PANTYHOSE/STOCKINGS DOGGYSTYLE FUCKING CREAMPIE
Keywords: trick trick mom mom and son fantasy pantyhose unwanted creampie son tricks mom cum inside mom cum in mom blonde mom blonde milf blondes

Mother, MILF, Big Tits, Big Ass, Stockings, Amateur, Cheating, Wife, Male Domination, Rough Sex, Humiliation, Blackmail, Netorare, Cum in Pussy, Creampie, Impregnation