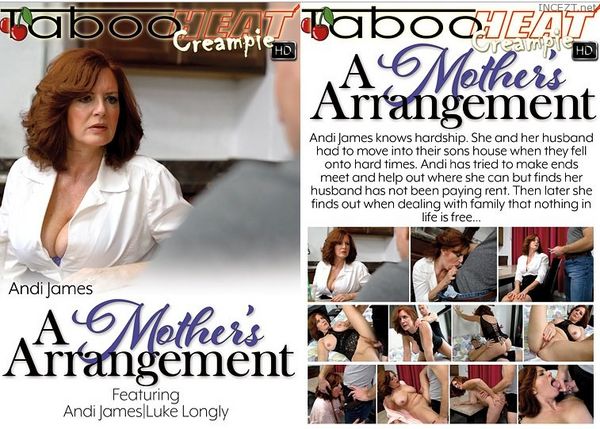 The Son is eating breakfast while the Mother (Andi James) walks around the kitchen cooking and bringing food to the table. The Son is fully dressed for work and Andi is in a bathrobe, not even slippers. The Son finishes eating, turns around his chair and spreads his legs. he says, "How about a quick blowjob before I go to work Mom?" She stops, looks offended, and says, "That's how you talk to me? I don't think so?" The Son laughs and says, "Mom, we have an arrangement here. I take care of you and fuck you anyway I like, whenever I like." She stares at him offended. He laughs and says, "You know you like it, but I'll make you a deal. Get down on your knees and suck my dick or I'll never fuck you again." She glares at him. He says coldly, "Last chance." She starts to move towards him but he tells her to strip; she lets her robe drop, he has her play with her tits and pussy, he then has her tell him how much she likes fucking and then how much she wants to suck his cock. After this he has her crawl to him and give him head, while she is doing this; he massage and runs his fingers through her hair, but doesn't push her head up and down, she does that. When he cums; he tells her, "Swallow it, swallow it, swallow my fucking cum. After he cums he stands up and sticks his dick back in his pants and leaves.
A) Mom is naked on her knees in the living room giving the Son, also naked a blowjob.
B ) Mom, naked is bent over the bathroom sink, the naked Son is fucking her from behind, holding her hair in his hands. She is yelling "I love my son's cock! I love fucking my son!". The Son keeps telling her to say more and louder. Have him say at least once. "God damn that pussy is good."
C) They are in bed, fuckign doggy style. Her knees are raised and pointing straight up. Her eyes are closed she is saying, "Fuck me, fuck me, Oh god please keep fucking me."
D) She is laying on the couch naked, the Son (also naked) is fucking her while keeping her mouth shut with his hand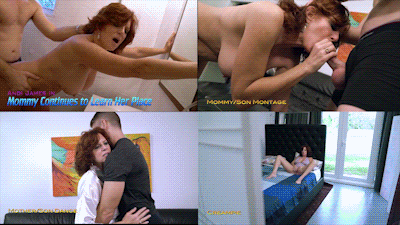 Mother, MILF, Big Tits, Big Ass, Granny, Cheating, Wife, POV, Blowjob, Female Domination, Jerk Off Instruction, Male Domination, Rough Sex, Hairy, Bathroom, Facial, Cum in Mouth, Swallow, Cum in Pussy, Spying, Caught Masturbating, Cum in Pussy, Creampie
Mom and Son are in the living room slow dancing. They start to kiss and then start to really make out; arms wrapped around each other, etc.. The Son lays on the couch, they continue to kiss while they undress each other. He eats her out until she cums; He then fucks her missionary position, doggie and her rides her son till she cums again. Son unloads into his Mom's mouth and she swallows all that lands on her tongue…
I walk into Mom's room to see what is for breakfast. She does not hear me and I approach the door. Mom is touching herself and calling out my name. I make a small noise and she hears me. She calls me in and asks if saw her and then asks if I was enjoying the show. Before I could answer, she motions me to come over and fuck her fast. She wants a creampie and I give her one. I hope she makes me pancakes after!
Scene #1: mom masturbates in the presence of her son, then gives him a blowjob
Scene #2: mom is giving blowjob, then gets fucked doggy and cum in mouth
Scene #3: mom gives blowjob to son, doggy, reverse cowgirl and missionary positions, receives cum on her face
Scene #4: mom plays with her pussy, gets fucked in missionary position, receives creampie
Category: MILF
Related Categories: CUMSHOTS, CUM SWALLOWERS, REDHEADS, BIG TITS
Keywords: andi james, mom/son, luke longly, taboo, non con, cumshot, cum swallow, natural boobs, mommy, mommy's boy, mother, black mail, blowjob, creampie

Mother and Son, Melanie and Ricky, enter their house; at night, dressed very nicely, in a very festive mood, very slightly wasted. Melanie says, "That was great! I haven't had such a good time in forever!" Ricky says, "Hey some things are worth celebrating." They hug warmly for a moment, the mother tries to pull back and then tries to semi-push him off. She stares into his eyes for a moment, slightly startled and searching with her eyes. She locks eyes on him, takes his face in her hands and they kiss on the lips, she pulls back with a shocked look on her face. They stare at each other, move slowly and gently into each other's arms and begin kissing, slowly and romantically at first and then passionately.
He slams her against the wall, she spreads her legs and grabs his ass and begins pulling him into her while starts to dry hump her. They make out for a little while, making out really hard with arms wrapped around each other. She reaches down, unzips his pants and pulls out his pecker and he pulls off her panties. They have sex against the wall, EVERY time Ricky thrusts up into her she cries, "Oh God!" He bends Mom over the couch and fucks her till they cum and they both collapse onto the couch, breathing very heavily.
Ricky helps his Mother to her feet. The look into each other's eyes and begin to kiss. They kiss their way down the hallway; her moving backwards, clumsily undressing each other and move to the bedroom. They finish undressing; she gets on the bed on all fours facing outwards, she pulls back and says, "No. I want you to fuck me, I want you to cum in my cunt. Fuck me up my cunt." She turns around and he slowly enters her. He starts slowly but fairly quickly starts to really hammer her. He says "Is that it Mom? Is that how you like being fucked?" She answers with things like, "Yes, that's it. That's how I like being fucked. Fuck Mommy, fuck Mommy's pussy!" When they cum/simulate cumming together, they cry out simultaneously, "OH GOD!" She collapses forward face down and he collapses on top of her.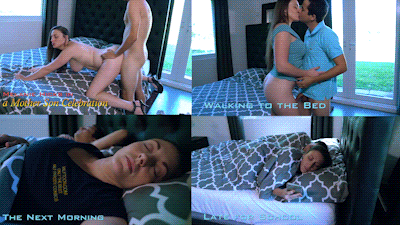 Mother, MILF, Big Tits, Big Ass, Chubby, Cheating, Wife, Blowjob, Handjob, Deepthroat, Cum in Pussy, Male Domination, Netorare, Cum on Tits, Cum on Pussy, Swallow
Melanie and Ricky are in bed together asleep, almost nude, under the covers, the Mother is on her back, the Son on his stomach. Ricky wakes up and stares at her for a while and then begins stroking her hair for a while before she wakes up. She wakes up smiles at him and then gets an upset look on her face and tries to get up. He throws the covers off of her and gets on top of her; she tries to weakly push him off and weakly whispers, "I'm sorry, Please." He takes her hands and gently pins them over her head. He takes the head of his dick and starts masturbating her clit, he does this for a little while, she starts getting turned on. Looking into her eyes, he whispers, "Do you like that? Does that feel good?" She tosses her head back and forth, whimpering. He keeps on and she starts getting turned on. He asks, "Do like that? Do you want me to stop? Tell me if you want to stop?" She whimpers, "No, don't stop. Please don't stop." He keeps on until she cums with a loud cry. They stop, stare into each other's eyes, laugh and have very vigorous sex in the missionary position. They cum together with loud cries, arching their backs in opposite directions and falling into each other's arms.
They are laying together on their backs. Mom says, "We need to get up. I have to get to work and you need to get to school." They stagger to the Kitchen. Before long he drops his pants and Mom opens her robe and they fuck on the kitchen table. He cums on Mom's belly and she tastes he seed. Mom then says, "To Hell with Work, let's stay home today…"
Category: MILF
Related Categories: KISSING, TABOO
Keywords: melanie hicks, cum shot, cumshots, taboo, brunette, milf, big tits, handjob, fucking, ricky spanish, kissing, office, assistant, anal, as

Big thanks to our VIP user for sending this! For known reasons they to hide mom's face but still very hot!


Please Login or Register to read the rest of this content.

*This is the only anal scene I've ever done* I went on a date with my boyfriend John tonight. I got all dressed up, looking like a whore for him and hoping for something more tonight just for him to break up with me! He told me I wasn't even that hot and that I was too much of a freak. He left me in tears and now all the makeup I had done for him was running down my face. My brother catches me and tries to console me. He's just my brother though and he loves me as his sister so I know he's just trying to make me feel better with the stuff he says. I can't get over how John basically called me ugly so I get up and show my brother my hot outfit and then I ask him a kind of awkward question but one that I need to know. I ask him, "if I wasn't your sister, would you fuck me? Do you think I have a nice body?" He reassures me that I have a great body and that if he wasn't my brother, that he would definitely fuck me. I mention how I thought I looked cute tonight and I even went to the effort of wearing a sexy bra and underwear since I thought I would be getting lucky tonight. He tells me he wants to see so that he can tell me what he thinks. I strip and he mentions how John is just an idiot. I tell him I love him and get my dress back on and head to bed. I love my brother…..he always knows just what to do and say to cheer me up. The next day, I'm laying on my bed watching TV when my brother comes in and wants to talk. He then asks me why can't we have sex? I'm appalled, you're my brother!! He sees me freaking out and he asks me the same thing I asked him yesterday, "If I wasn't your brother, would you fuck me?" Well I have to admit my brother is pretty hot so I admit to him that I would. It's just too weird. I can't fuck my brother. I mean what if I ever wanted to even get pregnant? Everything about this would be way too fucked up. I tell him it would be to complicated. He pressures me on why and makes everything sound so simple. I finally relent and tell him that first of all I'm too much of a freak. He thinks I'm referring to vanilla stuff like swallowing. He doesn't realize I actually love cum so that's a given that I like to swallow every guy's load I give head to. I end up confessing my wildest sexual fantasies. I can't believe it but I I confess it all to my brother. I tell him how the thing I want most is to try anal, to get my ass fucked and that I also want to eat ass and get my ass eaten. I'm embarrassed telling him all this, sure that he must think I'm a freak. It's actually the exact opposite and he finds it just as hot as I do and thinks all my boyfriends were just idiots. Wow, I really do love my brother. I guess, why couldn't we fuck? I ask him if he thinks we really should fuck and wouldn't it be weird? He suggests that we can start with just a kiss and if it feels too weird, we can stop.He flips me over and starts kissing me and fingering me and I have to admit, it feels absolutely amazing even though he's my brother. We stand and continue making out while he fondles my ass. He asks me if I want him to eat my pussy first. I tell him I want him to eat my pussy and my ass. He bend me over the bed and takes off my white shorts and pulls my panties to the side and starts eating my ass. Mmm, it feels so amazing. It's my brother's turn to feel this good now. I ask him if he wants his sister to suck his dick. I the lay on my side and slowly unzip his pants and start teasing his cock, getting it rock hard.I tell him I really want him to fuck my throat hard and make me gag on his cock. I gag on his cock until I am almost in tears. I love it. I love gagging on my brother's cock. It's so big and perfect too. I wish I had known and we could've started doing this sooner. I need to feel it inside me. I ask him if he brought a condom to fuck me. He puts the condom on and starts fucking me better than anyone ever has before. It's making me crave his cock in my ass. I ask him if he still wants to fuck my ass and I can feel his cock get even harder.I lay down on my stomach ready for him to take my anal virginity. I tell him to take the condom off since we don't need a condom for anal. I ask him to start slow and to be gentle since I'm an anal virgin and tell him that I can't believe I'm losing my anal virginity to my brother. He starts off slow and gentle for me and then has me get into doggy where he starts fucking my tight virgin asshole just a little bit harder, as much as I can take. It feels so good, I'm so glad I'm losing it to my brother who loves me and accepts me. I decide I really want him to cum inside my pussy. I tell him I want him to go back to fucking my pussy but I don't want him to put the condom back on. I want him to cum inside me and give me . He owns me now. My brother owns me and I call him daddy while he continues to fuck me. I'm my brother's little whore now and I love it. As he gets closer to cumming, I change my mind and decide I need to taste his cum. I tell him to cum in my mouth and I want to feel his hot cum down my throat. I get on my knees and he shoots his load straight into my mouth which I swallow all up. Mmmmm, it tastes so good. That was literally the best I've ever been fucked and it was by my brother!! He agrees and says that it was also the best sex he's ever had. I grab his head and bring him in for a kiss. I love my brother so much.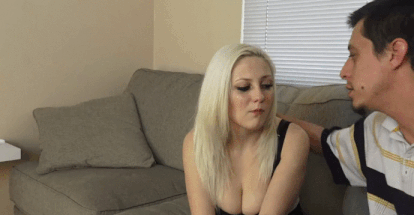 Category: TABOO
Related Categories: ANAL, BLOW JOBS, DEEP THROAT, CUM IN MOUTH
Keywords: anal, anal virginity, courtney scott anal, courtney scott, courtney scott first anal, real anal virginity, hardcore, throat fucking, prone anal, doggy anal, missionary sex, side spooning sex, cum in mouth

Sister, Teen, Big Tits, Big Ass, Chubby, Amateur, POV, Cheating, Male Domination, Rough Sex, Netorare, Blowjob, Handjob, Deepthroat, Titty Fuck, Cunnilingus, Anilignus, Anal, Facial, Cum in Mouth, Swallow

A confused and horny son asks mom for some firsthand masturbation guidance technics, because he still doesnt quite understand the complexities and enjoyments of self pleasure so maybe the best thing for now is to let mom show him and guide her frustrated son through the whole process of female and male sexual 4play and more…
This clip contains: Incestual dialogue with mother and son (English), JOI, slow wet handjob, slow wet blowjob, eye contact, POV, cfnm, spitting, groping, nipple flashing, doggy style, satin & silk, mature female domination, cumshot in and out of pussy, cream pie, fucking after cumshot and ass worship.
Category: POV
Related Categories: MOMMAS BOY, HANDJOBS, SILK & SATIN, BLOW JOBS
Keywords: teaching, mom, son, family sex, nightie, pink, robe, handjob, blow job, satin, silk, latina, joi, cum on clothes, creampie
Please Login or Register to read the rest of this content.

Scene One: Mom's massage
It's been years since Cory has seen her daughter Karma. She's not the girl she was when she left. Breast enlargement, tattoos, belly ring and a smoking hot body has turned Cory's little girl into a bimbo barbie doll! "Look at you!" Cory says in shock. Cory would be angry at her if she wasn't just so turned on by it. "I'm really tired from the trip, I'm going to go rest" Karma says and leaves for her old room.
Cory knows that Karma is tired so she offers her hot daughter a nice relaxing massage. "Thanks mom" Karma sighs and lays on the bed. Warm oil is poured over her as Cory's hands glide over her daughter's back. "You know sweety, it may be better if you take your clothes off" Cory says. Weirded out Karma takes off her clothes, it is her mother after all. God Cory's hands feel good all over her body. Cory rolls her over and begins rubbing her daughter's big tits. "Just relax" Cory whispers.
Scene Two: Mommy Daughter Secret
Cory slides her hands up and down her daughter's hot body. Every touch makes Cory tingle with ecstasy. Karma becomes more and more relaxed, she doesn't even mind the light touches to her bare pussy. "That's it" Cory moans, she can't stop herself and she dives face first into her daughter's perfect wet pussy.
"Mom! What are you doing?" Karma screams. Part of her wants her mom to stop, it's just so wrong, but it feels so good. She lays back and lets her mom's tongue lick and pleasure her. Moaning and shaking she has never felt so amazing before, she cums all over her mother's face and can't believe how naughty she is. "This is so wrong, we shouldn't be doing this" Karma pleads. Stripping out of her clothes Cory rides her daughter's face, so fucking turned on it doesn't take her long to cum and scream in orgasmic pleasure. Perfect bodied mother and daughter make out and lust for one another with promises not to tell anyone about their fuck.
Category: MILF
Keywords: vanessa cage, cory chase, big boobs, milf, lesbian, taboo, pussy eating, kissing, feet, foot, blonde, brunette, older woman younge

Mother, Daughter, MILF, Big Tits, Big Ass, Cheating, Wife, Female Domination, Blackmail, Massage, Netorare, Lesbian, Cunnilingus, Anilingus

Preview:
Pretty little Amy has been called to the Masters Office for Spanking Sex…excellent!! Authentic schoolgirl uniforms, thoroughly sexual spanking, fingering inspections, enforced stripping, pov blow jobs, multiple view point fucking in many positions and cum shots dribbeling from her tight bald pussy are just some of the highlights this intensely taboo 'old skool' sexually explicit delightful video has to show in exceptional quality with non stop 'eye candy' schoolgirl uniform and teacher sex video
School Girl School Uniform Taboo Teacher Fetish Spanking
Teen, Small Tits, Amateur, Stockings, POV, Male Domination, Blackmail, Rough Sex, Netorare, Blowjob, Handjob, Deepthroat, Cum in Pussy, Creampie
Ive got my friend Satine round and we have both decided to give up on boys and they are all idiots so we start getting it on together when my dad walks in and catches us and he is not happy he says we should be playing with boys not each other and before long her gets his cock out to show us how good cock can be and we both suck and fuck it together until my dad cums over us
Category: Daddys Girl, Daddy Roleplay, Boy Girl Girl, Blowjob, Fucking
Daughter, Teen, Small Tits, Big Ass, POV, Latina, Threesome, Lesbian, Bisexual, Stockings, Blowjob, Handjob, Deepthroat, Facial, Cum in Mouth, Swallow, Caught In The Act
Not only did my stepmom find my jizz rag, she also found all of the stepmother porn on my tablet. She thought it was funny and wanted to see some cum spurt out of my dick while I looked at her. I had no choice but to do this. She started playing with herself too which made things a little easier, and much hotter.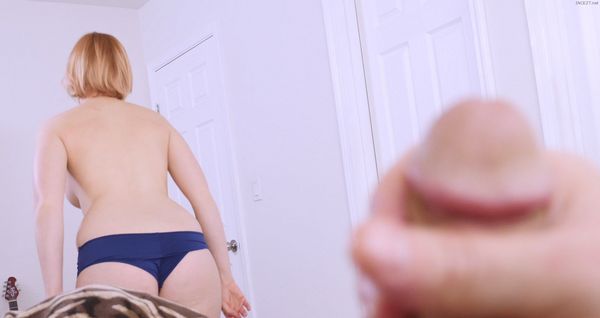 Mother, MILF, Big Tits, Big Ass, Cheating, Wife, POV, Caught Masturbating, Jerk Off Instruction